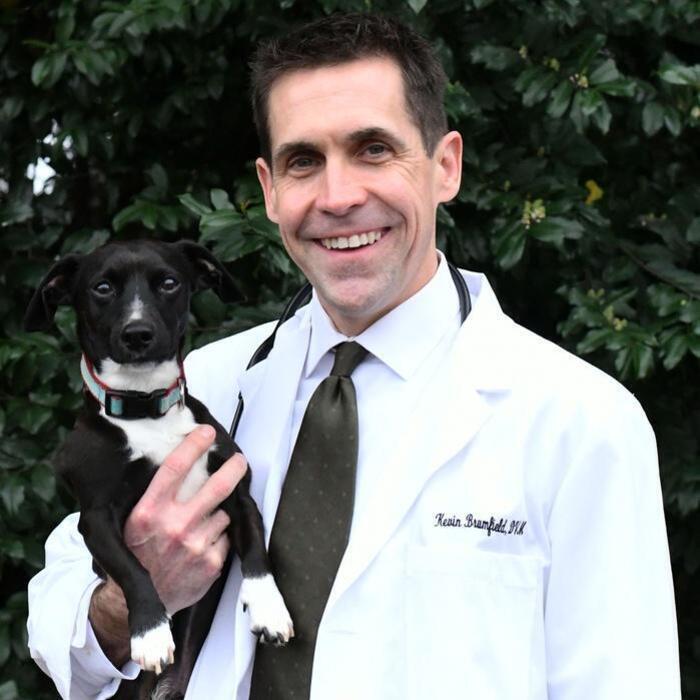 KEVIN BRUMFIELD, DVM Veterinarian and Owner
Originally from Ocean Springs, Mississippi, Dr. Brumfield has been a veterinarian at Northwood Animal Hospital since 1997 and a co-owner of the hospital since 2000. He graduated from the Auburn University College of Veterinary Medicine in 1997 (War Eagle!). His special areas of interest include soft tissue and orthopedic surgery, exotic animal medicine, dentistry, dermatology, internal medicine, and emergency medical care. In his free time, he enjoys spending time and traveling with his family. He also engages in all types of outdoor activities, including running, weight training, biking, gardening, kayaking, scuba diving, and snowboarding. Dr. Brumfield has two dogs, a Labrador retriever mix named Toby and a Dachshund/Boston Terrier mix named Cooper, both rescues. Professionally, he is a member of the American Veterinary Medical Association, the FVMA, and sits on the Boards of the Leon County Humane Society and Companion Animal Rescue Endeavor (CARE). He also founded Rescue Relief, an annual fundraiser for Tallahassee area pet rescue groups. As of today, this cause has raised over $250,000 in donations for local pet rescue groups.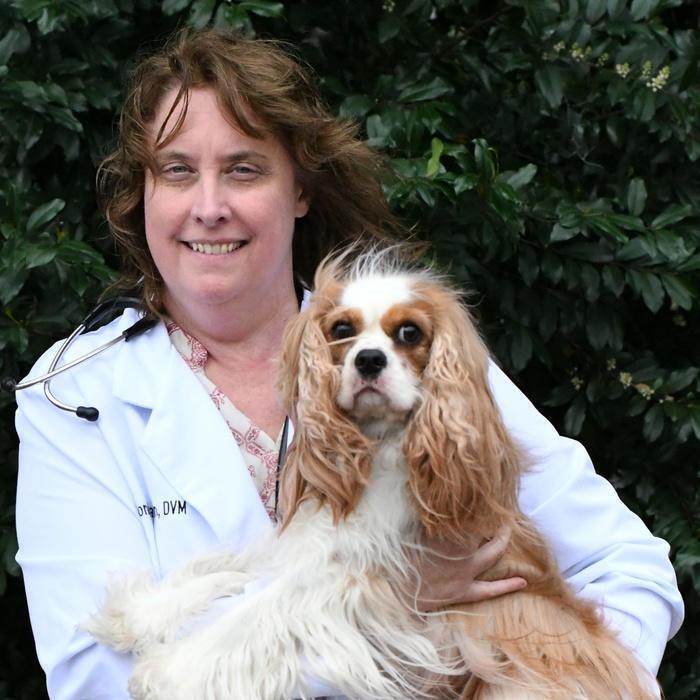 SONDRA BROWN, DVM Veterinarian and Owner
From a small town in Kansas where her family raised and showed English Setters, Dr. Brown graduated from Kansas State University College of Veterinary Medicine in 1993 and then returned to earn a Master's Degree in Veterinary Pathology. She started working at Northwood as an associate veterinarian in 1997 and became a co-owner of the hospital in 2000. In addition to being married with three children, she also shares her home with 4 dogs (Lab mix, Miniature Schnauzer mix, a Boxer mix, and Cavalier King Charles Spaniel) and 2 Domestic shorthair cats. All but one of her pets were adopted from the hospital's non-profit rescue, CARE (Companion Animal Rescue Endeavor). Dr. Brown is a long-time member of the Rotary Club of Tallahassee Northside, having served as president, as well as being long term Committee Head of the club's Daddy Daughter Dance. Annually, she spearheads the hospital's free veterinary clinic as part of the annual Homeless Veterans Stand Down. Her primary interests in veterinary medicine include her work with CARE, preventative medicine, and behavioral medicine. She also leads the Tallahassee Animal Blood Bank which is run out of our sister hospital, The Animal Hospital and Pet Resort at Southwood.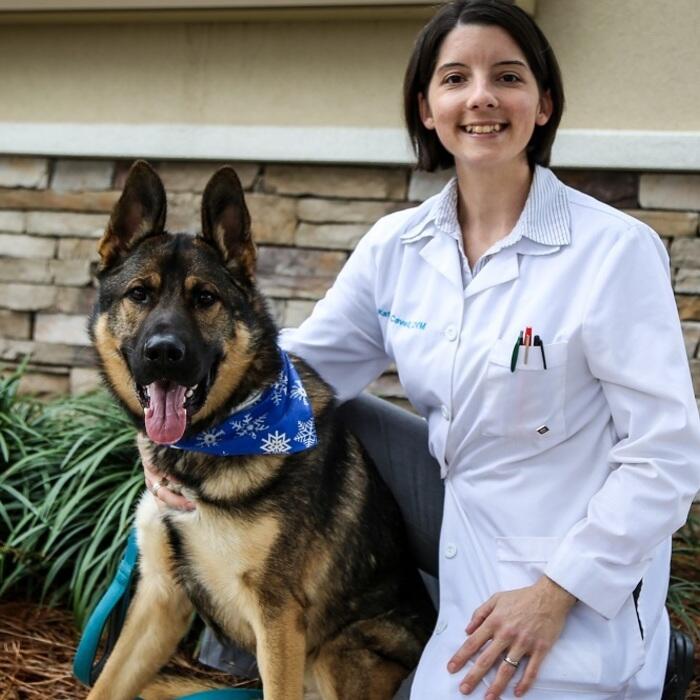 KATHLEEN CAVELL, DVM Associate Veterinarian
Born and raised in southeast Michigan, Dr. Cavell worked at several small animal practices, including an emergency practice, gaining over seven years experience as a veterinary assistant prior to and during veterinary school. She attended Michigan State University for undergraduate studies and veterinary school, graduating in May 2006. During school she focused on surgery, emergency medicine, ultrasonography, and exotic pet medicine (all of which remain relevant interests in her career). She participated in exotics externships in San Francisco and at UC Davis, CA. Dr. Cavell's interest in exotics extends to her home life – she has owned many rats over the years. She has also owned lizards, snakes, birds and rabbits. Her current pets include four orange cats (Oliver, Azathoth, Monte, and Gygax), and a rescued tripod German Shepherd named Tycho. She is currently living in Tallahassee with her husband, Mathieu, who works for Leon County. In her spare time she enjoys hiking with her dog, strength training, cycling, archery, board games, volunteering for local pet rescues, and raising orphaned baby squirrels for St. Francis Wildlife.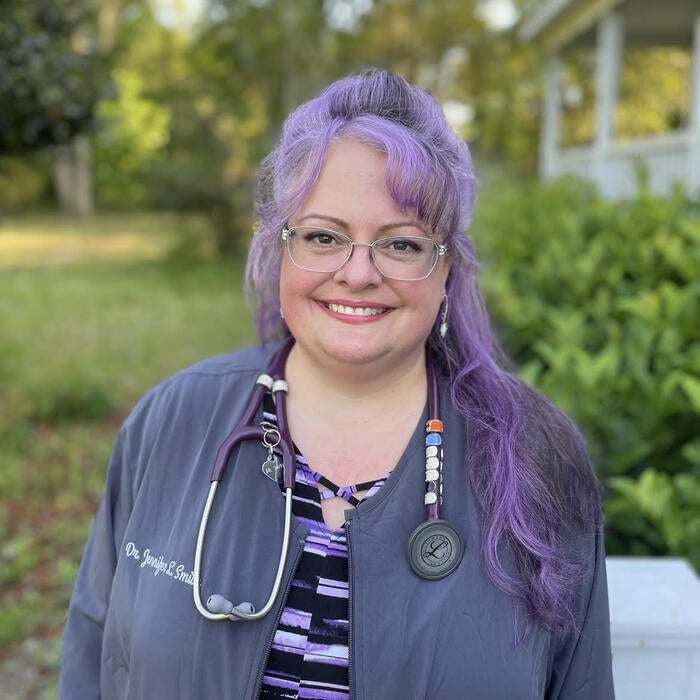 JENNIFER SMITH, DVM Associate Veterinarian
Dr. Jennifer L. Smith originally comes from San Pablo, California, with stops in New York and Georgia on her journey to Florida. Always fascinated by all types of animals, she worked in multiple animal related fields for 9 years prior to attending veterinary school. She obtained her DVM from the University of Georgia College of Veterinary Medicine in 2003 and then went on to earn her MBA from the University of North Alabama in 2008, while working full time as an emergency veterinarian. Dr. Smith has worked in both small animal and mixed animal practices over the last two decades, joining Northwood in October of 2012 as a relief veterinarian and transitioning to full time in 2014. She enjoys general medicine and surgery but has a soft spot for feline medicine. She also has a particular interest in the human-animal bond, by completing advanced training and obtained her Human-Animal Bond Certification as well as Pet Nutrition Coach Certification. Just before the beginning of vet school, she fell in love with Bullmastiffs and they have been part of her rather large family ever since. When she's not at work in the hospital, she is often working at home on her small farm, staying busy with her horses, dogs, cats, chickens, pheasants, peafowl, and honeybees!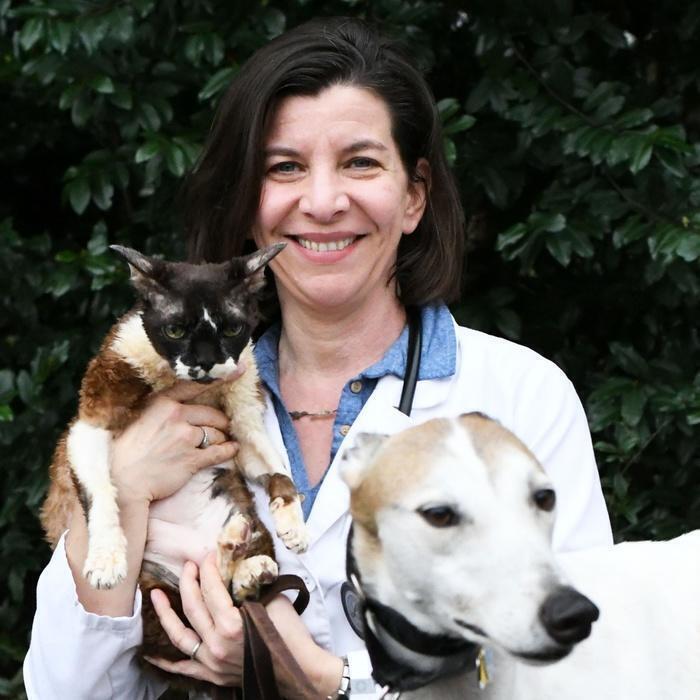 ALICIA SMITH, DVM Associate Veterinarian
Dr. Alicia Smith graduated from NCSU in 2004 after starting her animal career in 1994 in a no-kill shelter in Boston. She started working at Northwood Animal Hospital in 2004 and moved to The Animal Hospital and Pet Resort at Southwood in 2012, while still practicing medicine at Northwood a couple of days a month. When not at work, she can usually be found covered in paint, glue, or dry-wall compound from her many adventures in home improvement. She shares her house with two hypoallergenic cats, 1 shelter dog, 1 ex-racing greyhound, 1 human child, and her husband of 20 years (who loved her enough to find hypoallergenic cats).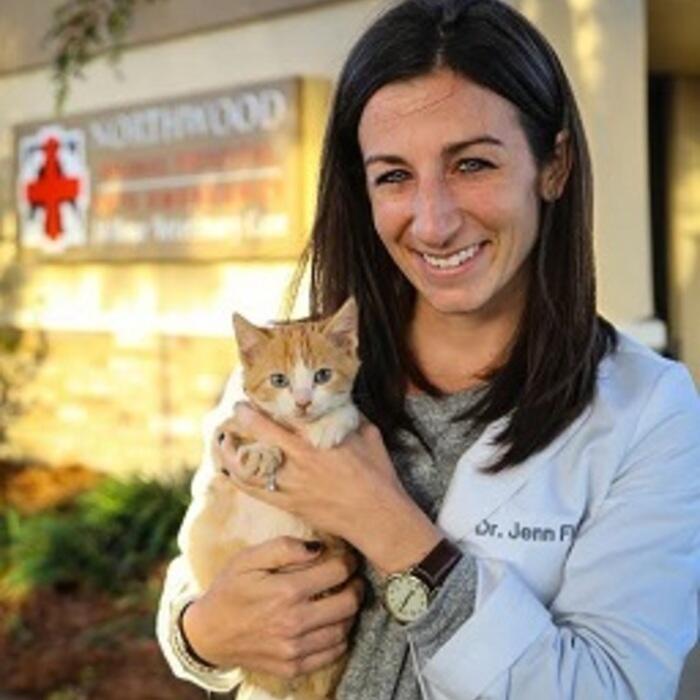 Jennifer Fleck, DVM Associate Veterinarian
Born and raised in Tallahassee, Dr. Fleck is a proud Leon High School and FSU graduate. Despite graduating from the University of Florida of veterinary medicine in 2016, she remains a diehard Seminole. Dr. Fleck has been with Northwood since graduating in 2016 and lives in Tallahassee with her husband and toddler. Her fur-children include her two rescues, a golden retriever, and a Great Dane. Dr. Fleck's veterinary interest is nurturing and facilitating the amazing bond between humans and their animals. Dr. Fleck keeps herself busy by running after her toddler and doing yard work with her husband. Her favorite things are a good cup of coffee and puppy snuggles.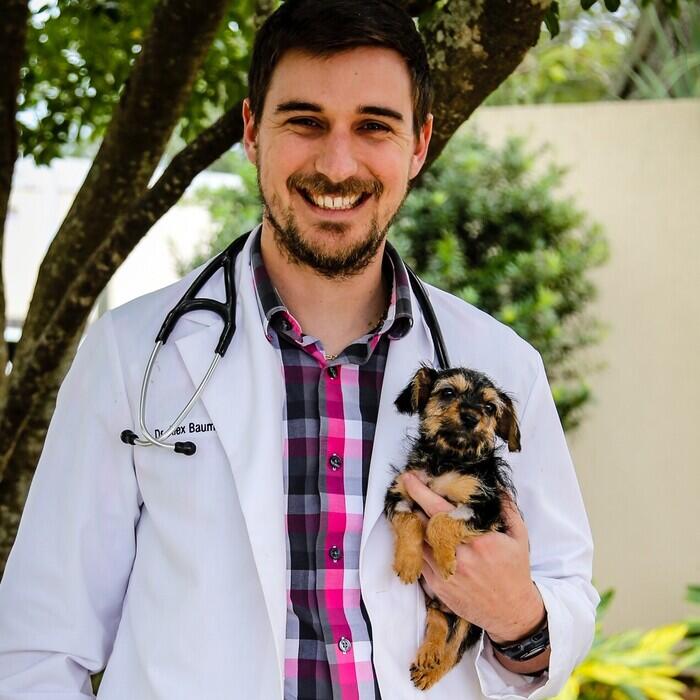 Alex Baumgartner, DVM Emergency Associate Veterinarian
As a Tallahassee native and graduate from Rickards High School and Florida State University, Dr. Baumgartner graduated from Auburn University College of Veterinary Medicine in 2018. He began his veterinary career at Northwood Animal Hospital shortly after. His veterinary interests include emergency medicine, surgery, and ultrasonography. When he's not at work, his hobbies are attending sporting events, golfing, kayaking, and most other outdoor activities with his German Shepherd, Stella. You can find him at Doak in the fall - Go Noles!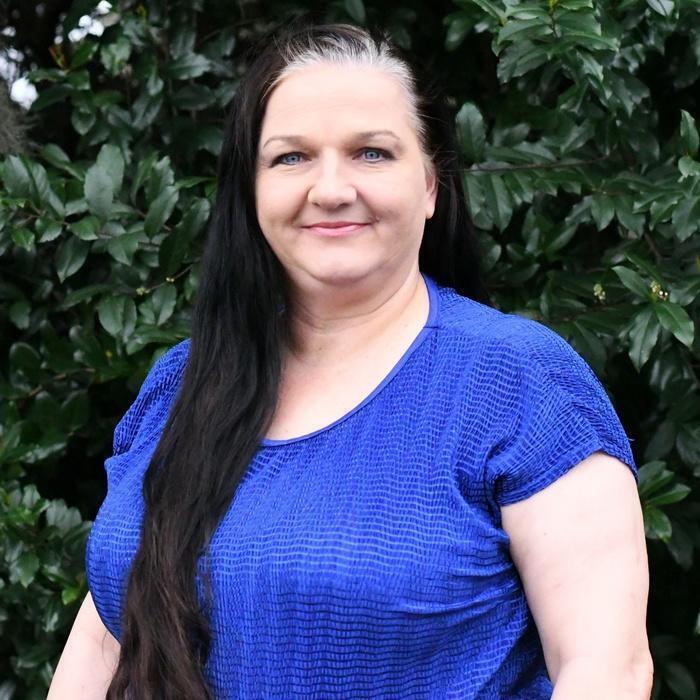 SUSAN, RVT, MBA Hospital Administrator
Susan joined Northwood Animal Hospital in 2010 as our Hospital Administrator. She had been a veterinary technician for over 20 years and sought an advanced degree in order to pursue a career in veterinary management. She has a small hobby farm in Monticello, with American Paint Horses, chickens, cats, and one Chocolate Lab. She also has a Basenji and Toy Poodles to round out her furry family. Susan has 2 sons, Christian and Liam. Nicole, CVT Inventory and Technician Manager
Nicole has been working at Northwood since 2001 and since then has become a Certified Veterinary Technician and a manager. She enjoys learning as much as possible about pain management and surgery and loves a challenge when it comes to calming nervous cats. She is a Tallahassee native and lives with her family, which includes 2 dogs and an ever-growing number of cat children. Brianna Technician Manager
Brianna recently came on board with Northwood in 2020. She originally started off as a 911 dispatcher for Leon County until she decided to follow her true passion: animals! She started working at St. Francis wildlife as a wildlife technician in 2014 and followed that by working at another practice as a veterinary technician. She loves working in all parts of the hospital, but really enjoys caring for the critical patients in ICU. She is currently in school working on her Bachelor's degree in Biology at St. Petersburg College, with the goal of one day becoming a veterinarian. She spends her days off with her husband, two kids, one fluffy dog, a leopard gecko, and a giant rabbit who all keep her busy!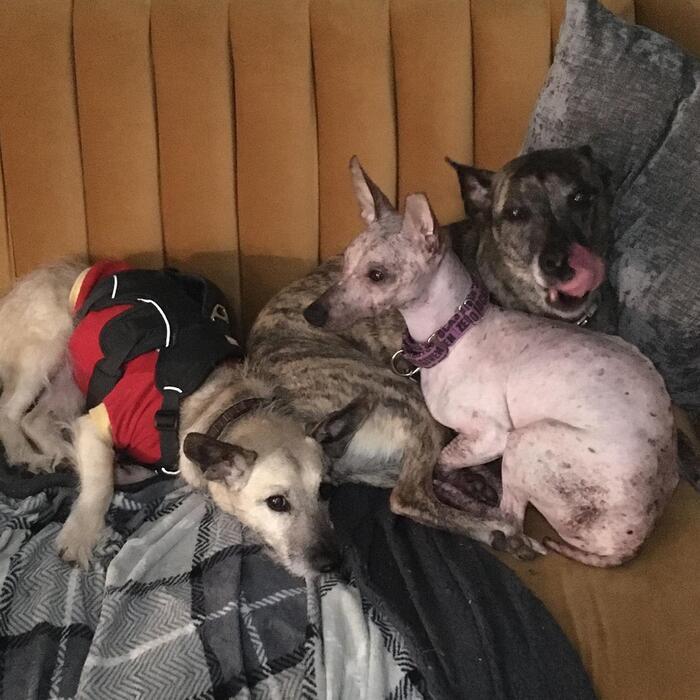 Crystal Technician Manager
Crystal graduated from Florida State University with a Master's in Library and Information Studies 2008 and started working at Northwood in 2009. While they worked as an overnight emergency technician for 8 years, Crystal now works during the day where they enjoy surgery and caring for the patients in ICU. Outside of work, Crystal likes to spend time with their partner, Lauren, and their 3 dogs and 4 cats. They watch horror movies, read dystopian fiction and patronize local coffee shops.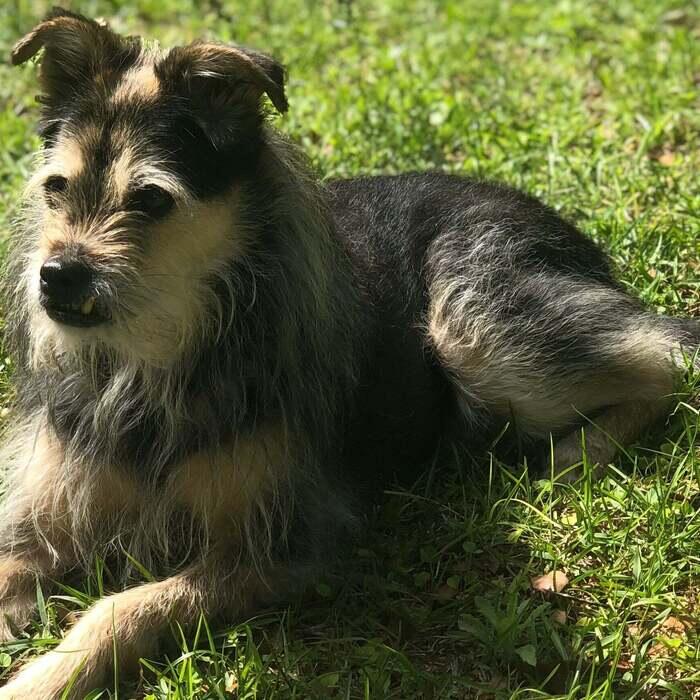 KC Technician Manager
KC has worked at Northwood since 2016 but started working in veterinary medicine in 2013. She has worked in various areas of the hospital as a veterinary technician but has found herself enjoying the overnight emergency shifts the most. Although she works in veterinary medicine, she has always volunteered for other animal-related projects like the ASPCA and the Tallahassee Museum. She has a dog and a cat at home. Shelia Business Manager Anastasia Veterinary Technician
Anastasia has been working at Northwood since 2018 as a veterinary technician. In 2016, she graduated with a bachelor's degree in animal science from Florida A&M University. Her interests in veterinary medicine include general practice, caring for the ICU patients, and assisting in surgery. In her free time, she enjoys playing basketball, playing the drums, and singing. Erin M. Veterinary Technician
Erin originally started working at Northwood as an emergency technician in 2017, and again in 2020 after taking some time off to care for her baby boy. Erin has worked in the veterinary industry since 2013 and enjoys working in Emergency medicine. She has 2 cats (Henry and Triton) and 2 dogs (Mac and Kahlan). Evelyn Veterinary & Call Technician
Evelyn has been working at Northwood since 2020 as a veterinary technician. She has been involved in the veterinary field since 2018 and her favorite part of the job is working with ICU patients. It's particularly rewarding for her to be involved with nursing patients back to good health so they are able to return home to their families. She has two cats of her own as well as one dog which she recently adopted from our CARE program here at the hospital. When not at work, she enjoys playing video games and hanging out with her pets. Heidi Veterinary Technician
Although Heidi began her veterinary career in 2001, she joined the Northwood team in 2018 as a veterinary technician. This Tallahassee local has a dog and cat at home, both of which are seniors. She enjoys spending her free time with her boyfriend, Dean, and going to the beach to watch the sunset. She has two sons. Her interests in veterinary medicine include surgery, emergency, and exotic medicine.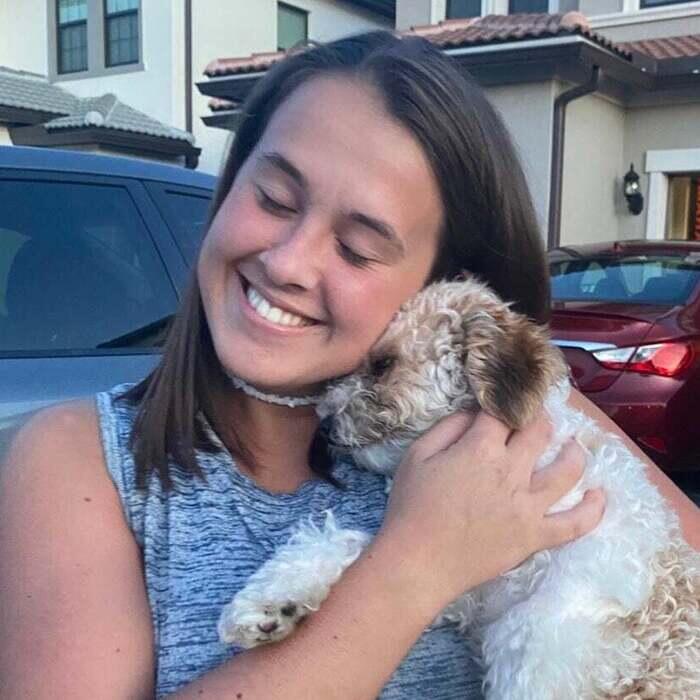 Melissa Veterinary Technician
Melissa is a full-time student at Florida State University and began working at Northwood Animal Hospital in 2019. In June 2020, she rescued two kittens named Miami and Jupiter. Melissa loves to help others and is looking forward to advancing her career in veterinary medicine!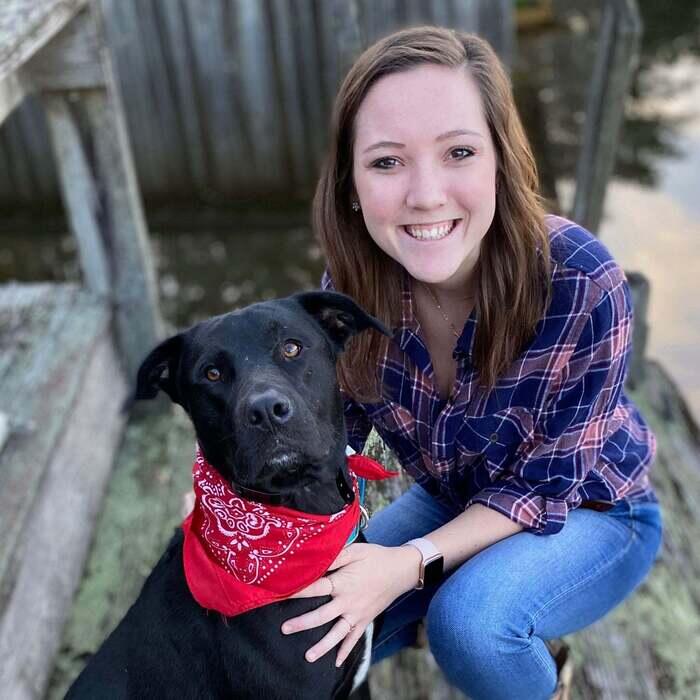 Shelby Veterinary Technician
Shelby began working as a kennel technician in 2020. She has just embarked on her journey to vet school by enrolling at TCC. She has three dogs, all of which are rescues. She's known from a young age that she wanted to be in veterinary medicine and is excited for the adventure Northwood brings! Nadine Veterinary Technician Natalie Veterinary Technician
Natalie is from Miami, Florida, and has been a veterinary technician at Northwood since 2019. She really likes being a surgical technician as well as triaging urgent care and emergencies. Her favorite species to treat and handle at Northwood are reptiles, especially snakes. She has continuing education certificates in triage, hematology, dental radiology, and dental prophylaxis. At home, she has a domestic shorthair tuxedo cat and a Malinois pitbull mix. While not at the hospital, she likes to go hiking, camping, running, and going to the beach. Natalie is currently pursuing her bachelor's degree in Biology at Florida State University. Mackenzie Veterinary Technician Kyleigh Veterinary Technician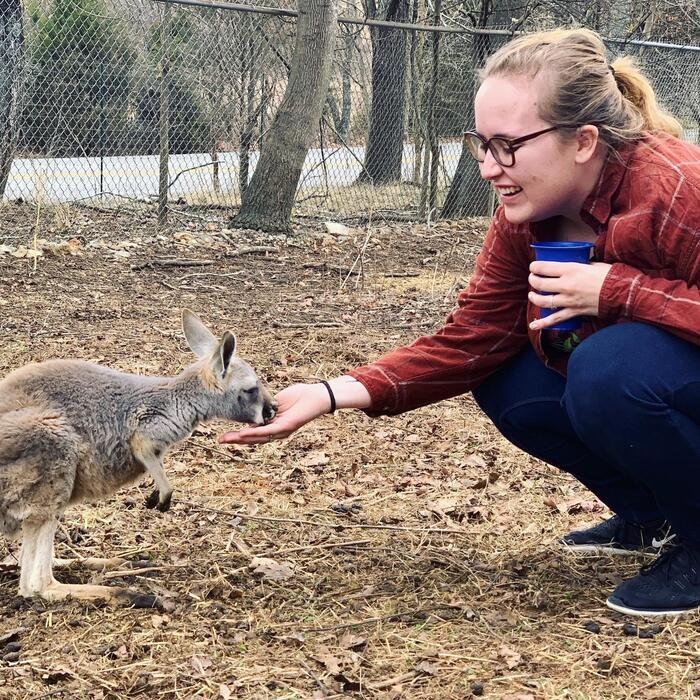 Nikki Veterinary Technician
Nikki has been a member of the Northwood team since 2019 but grew up in the veterinary industry at a family veterinary practice. She started out working as a client services representative and is now a technician assistant. Nikki studied music at Virginia Commonwealth University and intends to pursue a degree in veterinary technology. In her free time, Nikki enjoys caring for her cats Dandelion, Alice, Buddy, Skully Cat, Kali Mama, and Alita as well as her 12 reptiles. Steven Veterinary Technician
Steven began as a kennel technician at Northwood in 2017 and is now an emergency technician assistant. As Northwood is a drop off location for St Francis Wildlife, he especially loves caring for the wild animals that the community brings in for help. When Steven is not working, he enjoys volunteering and scuba diving in Panama City. Steven graduated from Florida State University with a bachelor's degree in Biology in 2019 and is a current veterinary school applicant where he plans to specialize in wildlife medicine. Katie Certified Veterinary Technician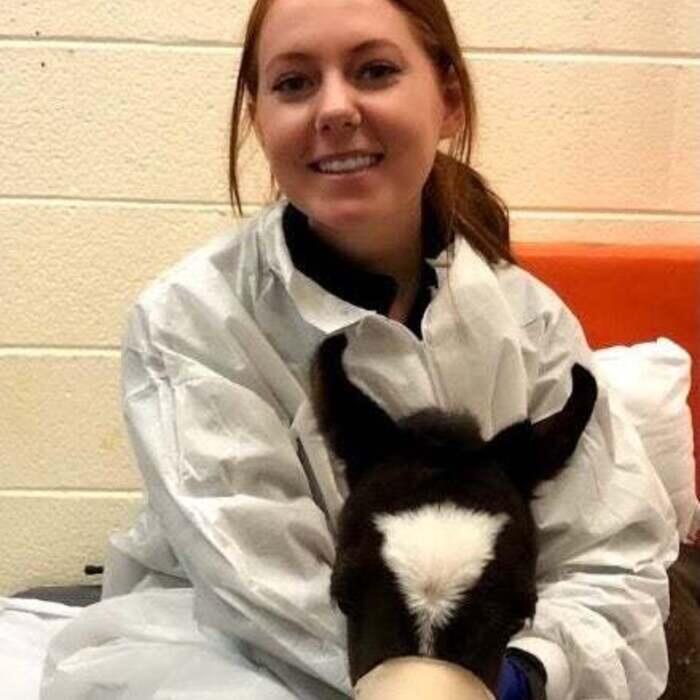 Erin H. Veterinary Technician
Erin joined our team in January of 2021. Though originally from Massachusetts, she previously worked with large animals in North Carolina before moving to Florida. Erin received her bachelor's degree in animal science from SUNY Cobleskill, NY, and is currently working towards her Certified Veterinary Technician degree. She is new to small animal medicine and is loving it so far! Her main interests are intensive care and surgery. Erin has 2 fur babies of her own at home, Louie the beagle and Olive the black cat. Her hobbies include horseback riding and collecting plants.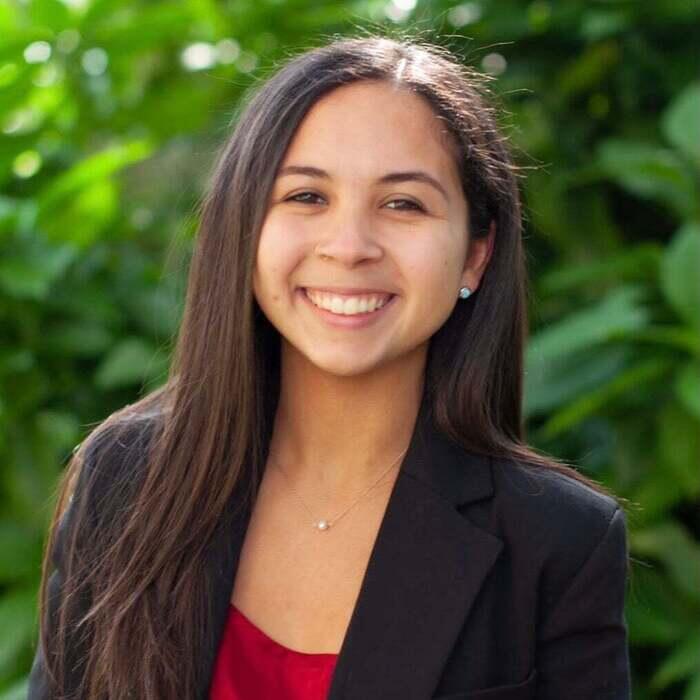 Natali Veterinary Technician
Natali is a full time student at FSU, and started working at Northwood in 2020. She plans to apply to vet school, and has wanted to work in veterinary medicine since she got her first puppy at age 5! She says that Northwood has only heightened her love for animals. In her free time, she enjoys doing outdoor activities, hitting the gym, and cuddling with her cat, Reggie. Jessica D. Kennel Technician
Jessica is one of our kennel technicians and has been working at Northwood since 1997. She is known for doing a little of everything around the hospital. She enjoys making our patients and clients happy as she wants everyone to have the best possible experience here at Northwood. Sara Kennel Technician
Sara, a Tallahassee local, has been a Northwood team member since 2009. Her passion in life is helping the animals and being with her friends at work. She has two cats and has many interests, but writing stories, cooking, travelling, and helping out in the yard are her favorite.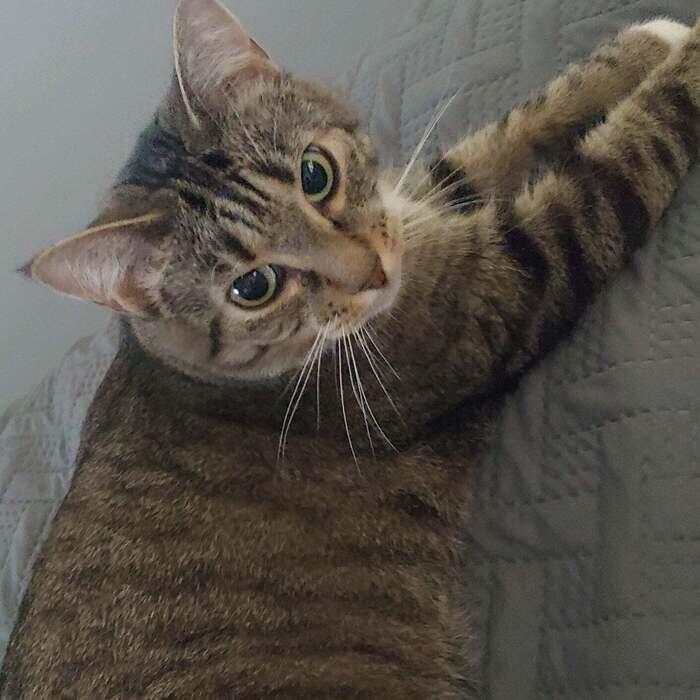 Brianna S. Kennel Technician
Brianna joined us as a kennel tech in January of 2022. She is a wife and mother of 3. She loves spending time with her family, and can't live without coffee! She loves the outdoors and spending time near the water, and we love her calm and down to Earth demeanor. Ferral Customer Service Representative
Farrel has been working with pets for most of her life. She got her passion for animals from her mom, who worked as a veterinary technician and then owned a boarding kennel where Farrel worked until she decided to move to Tallahassee almost 7 years ago. Outside of work, she loves to read and spend time with her husband, 2 kids, 4 rescue dogs, bearded dragon, and the newest member of the family, a corn snake. Donovan Customer Service Representative Ashlyn Customer Service Representative
Ashlyn joined our team in May of 2021 after moving to Tallahassee in 2017. She graduated from FSU with a Bachelor's degree in English and Psychology, and she has been a loyal volunteer with the Leon County Humane Society over the last two years. When she's not volunteering, she's at home with her two rescue cats named Valentine and Grayson.